Essential Healthcare trends for Key Account Managers
In the dynamic landscape of global healthcare, staying abreast of emerging trends is not just an option—it's a strategic imperative for Key Account Managers (KAMs) who strive to excel in their roles.
As the healthcare sector undergoes transformative shifts, KAMs equipped with insights into these trends become invaluable advisors to their clients, fostering partnerships that drive innovation and optimise patient care.
In this comprehensive guide, we delve into some of the key global healthcare trends that every proactive KAM should be aware of.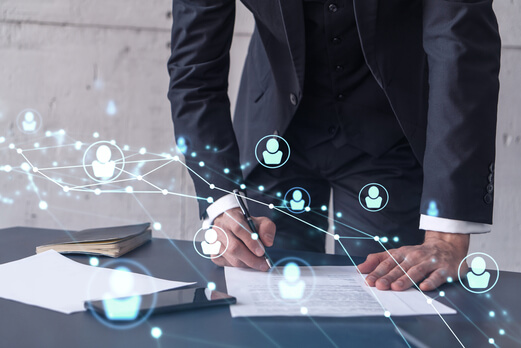 What is key account management?
At IQVIA, Key Account Managers manage crucial client relationships, in collaboration with executives and leaders in the client organisation in a part of a large or mid-sized market or part of a large region.
You'll grow revenue by leveraging the full power of IQVIA offerings and identifying new business opportunities, and play a vital role in the growth of the industry amongst other rewarding benefits in this fulfilling path.
Read on to unveil insights into the healthcare landscape.
1. Telehealth and remote patient monitoring
The advent of telehealth and remote patient monitoring has revolutionised the way healthcare services are delivered. With the proliferation of digital platforms, patients can now access medical consultations and monitor their health remotely.
Understanding the potential of these technologies can help you drive client strategies toward enhancing patient engagement, reducing hospital readmissions, and expanding healthcare access to underserved populations.
2. Value-based care
The transition from fee-for-service to value-based care models is reshaping the healthcare landscape. In value-based care, providers are incentivised to deliver quality outcomes rather than volume.
For clients developing solutions that improve patient outcomes while managing costs—a win-win situation that resonates with the evolving healthcare paradigm—your guidance and knowledge in this area will be invaluable.
3. Artificial intelligence (AI) and data analytics
AI and data analytics are revolutionising healthcare by uncovering insights from vast amounts of patient data. Tapping into this trend can guide your clients toward data-driven decision-making, optimised clinical workflows, and predictive analytics that enhance patient care and operational efficiency.
4. Patient-centric focus
Patient expectations are evolving, demanding a more patient-centric approach to healthcare delivery. Grasping this trend can help you to help your clients design patient experiences that prioritise convenience, engagement, and holistic care.
Whether it's through patient portals, the power of wearable devices, or interactive health apps, KAMs can play a pivotal role in advocating for patient-centric innovations.
5. Population health management
Population health management has come to greater prominence in recent years. But why should you care? It's about understanding that many factors impact our health, not just going to the doctor.
Surprisingly, only 20% of our health is affected by the quality of healthcare we get. The rest comes from other things like where we live, our lifestyle, and the support we get from our community. This approach also highlights how important local communities and regular people are in keeping us healthy. It's like seeing the bigger picture of health and involving everyone to make a difference.
KAMs who understand this trend can guide their clients toward initiatives that improve health outcomes across populations, ranging from chronic disease management to preventive care programmes.
6. Blockchain for healthcare
By harnessing the power of blockchain technology, healthcare providers can streamline patient information sharing, ensuring faster, more secure, and error-free transitions between different medical organisations.
This innovation not only enhances patient care by facilitating swift and accurate communication among healthcare professionals but also enables the creation of an interconnected system where electronic health records are seamlessly integrated, leading to more efficient and coordinated healthcare delivery.
Through blockchain's encrypted links, diverse medical data, including crucial radiographic images, can be stored and accessed securely, underscoring its pivotal role in ushering in a new era of interoperability and collaboration within the healthcare industry. Whilst the application of blockchain in healthcare still requires greater development, this is certainly a key trend to watch!
Take charge of your career
In a rapidly evolving healthcare ecosystem, Key Account Managers who embrace these global trends as opportunities for growth and innovation will emerge as trusted advisors, driving value for both their clients and the industry at large. By harnessing these insights, KAMs can proactively steer their partnerships toward success and play an instrumental role in shaping the future of healthcare.
If you like the sound of working amongst peers who believe in pushing the boundaries of human science and data science to make the biggest impact possible, apply for key account manager jobs at IQVIA.
Join a global leader in advanced analytics, technology solutions and clinical research services to the life sciences industry today – grasp an abundance of opportunities at your fingertips.
List #1
IQVIA Related insights



How to break into the medical sales field
Summary
Are you an experienced medical professional looking for a new challenge, a career changer seeking a rewarding path in the healthcare industry, or newly graduated? The field of medical sales could
Read more









List #1
Recently viewed jobs