The power of wearable technology in healthcare
At IQVIA, with 61,000 colleagues in over 100 countries, we've earned a reputation for fostering a network of ambitious and dedicated people to come together and produce innovative medical solutions. We always strive to be extraordinary – every step of the way. And we're here to help you do the same.
If you're working in pharmaceutical sales or looking to stay at the top of your game within the ever-evolving world of medical device careers, it's important to keep up to date with industry trends and developments.
With a proud heritage of innovation and discovery, we know a thing or two about staying on top of trends shaping the medical devices industry. One development growing in use across healthcare is wearable tech. Given their versatility, wearables have gained tremendous popularity in recent years, seamlessly integrating into our daily lives. They have the potential to transform a variety of industries, including healthcare, with endless possibilities for innovation and improvement.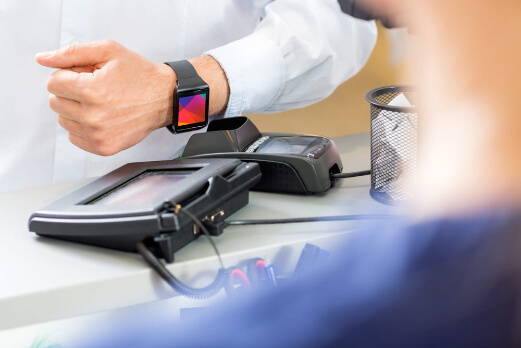 What is wearable technology?
Wearable technology has become ubiquitous, encompassing a range of electronic devices that can be worn on the body, as an accessory, or integrated into clothing or other items. Popular examples like smartwatches and fitness trackers might spring to mind but cutting-edge wearable tech is designed to serve various purposes, including wearable medical devices which are one of the largest growing innovations in medical device industry.
Wearable technology is enabled by a sophisticated combination of sensors, processors, and communication technologies that collect, process, and transmit data to other devices or the cloud for further analysis. They allow us to track physical activity, monitor vital signs, and display information.
Where can we see wearable technology examples in healthcare?
There have been many recent advancements in wearable medical devices that are transforming the way healthcare is delivered.
The list of devices making a difference in healthcare keeps growing, but some of the best and most recent advancements include Continuous Glucose Monitoring (CGM) devices that monitor glucose levels in real-time, providing a more accurate and continuous measurement than traditional blood glucose meters. This is especially helpful for people with diabetes who need to track their glucose levels throughout the day.
In a global landscape growing ever more hybrid and remote, it's worth mentioning Remote Patient Monitoring (RPM) devices, which allow healthcare providers to monitor patients remotely, reducing the need for in-person visits. RPM devices can track vital signs, medication adherence, and other health metrics, enabling providers to detect potential issues early and intervene before they become serious.
How can we maximise patient care with wearable technology?
Wearable technology in healthcare has the potential to improve patient outcomes, reduce healthcare costs, and provide individuals with more control over their health.
In an extensive review of wearable technology applications in healthcare, expert medical and data researchers, Min Wu, Ph.D., and Jake Luo, Ph.D. reported insightful findings in their widely cited journal publication, Wearable Technology Applications in Healthcare: A Literature Review. From prevention of diseases, maintenance of health (including fall prevention and weight monitoring), patient management for cancer survivors and stroke patients, to disease management and more, the scope for maximising patient care with wearable technology is expansive.
What are the limitations of wearable medical devices?
Patient data privacy and security is a major concern with wearable devices as they collect and transmit sensitive health data. If not properly secured, this data could be vulnerable to hacking, theft, or misuse. But developments in encrypted data transmission, user authentication and more secure data storage are constantly evolving, with new improvements being made all the time to protect data privacy and security.
There's also an ethical element around access to personal information as well as inaccessibility to those who can't afford them. Healthcare providers may not be able to cover the cost of these devices, limiting their use in certain settings. It's important that while we embrace innovations in wearable tech, researchers and developers consider ethical issues.
Take charge of your medical device career
Looking to start a career as a medical sales representative or to advance your career with a trusted company?
If you're ready to join leading global providers of advanced analytics, technology solutions, and clinical research services to leaders at the forefront of the life sciences industry, why not apply for one of IQVIAs range of opportunities? Explore key account manager jobs, medical sales rep jobs, or clinical pharmacist jobs.
If you can't find the role that you're looking for, you can sign up for job alerts and you'll be the first to hear about our latest roles.
Clinical Trial Assistant - Meldola
Location:
Meldola, Ravenna, Forlì-Cesena, Bologna
Location
United States of America
Forlì-Cesena
Bologna
Description
Are you looking for an opportunity to work with an industry-leading company? IQVIA is currently recruiting for a Clinical Trial Assistant to support a site in Meldola.This part-time role is for 24 hou

Apply
List #1
IQVIA Related insights


How to adopt medical device sales ethics
Summary
In an industry where cutting-edge innovations and life-changing treatments are introduced every day, the role of ethics in medical device sales is critical.  Bridging the gap between groundbreaking m
Read more

How to get into clinical research jobs
Summary
Clinical research is a dynamic and rewarding field that transcends borders, offering professionals around the world the chance to contribute to medical advancements and improve patient outcomes.
Read more





How to break into the medical sales field
Summary
Are you an experienced medical professional looking for a new challenge, a career changer seeking a rewarding path in the healthcare industry, or newly graduated? The field of medical sales could
Read more




List #1
Recently viewed jobs