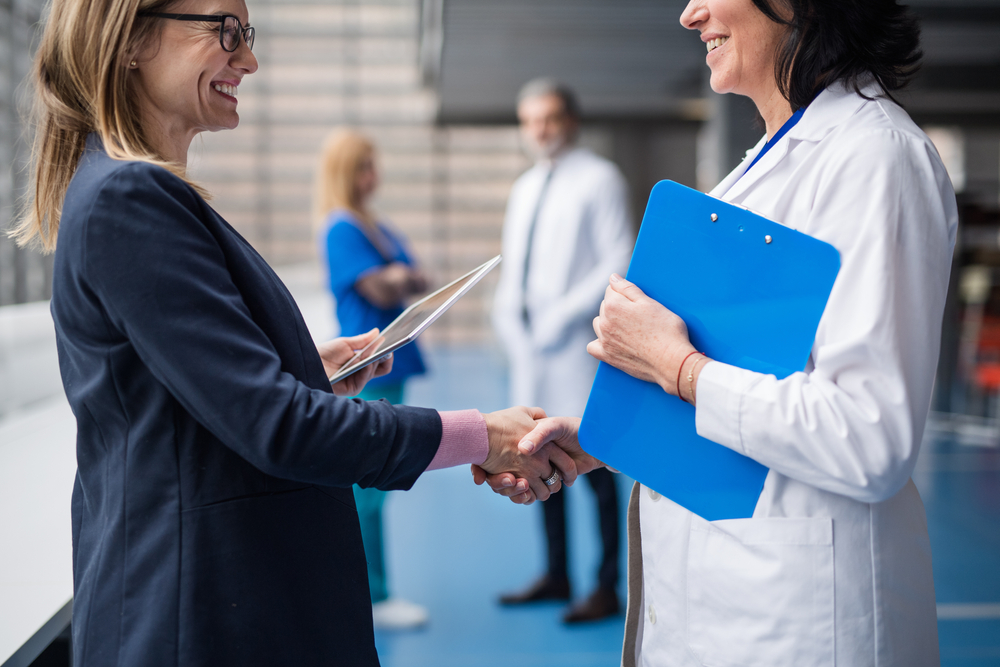 How To Be Successful In Medical Sales - Top 4 Tips
It goes without saying that to become a successful medical sales representative you need a strong work ethic and first-class sales skills.
But there's much more to it than that.
Making your mark in the industry will require you to earn the respect of your clients and colleagues and demonstrate a willingness to learn and develop.
Medical sales reps are the critical link between medical and pharmaceutical companies and healthcare professionals.
And since the OECD shows that global spending on healthcare has crept up to 8.8% of GDP and will outstrip GDP growth by 2030, medical sales reps will have an increasingly important role to play in the healthcare market.
The chance to help deliver treatments and medical devices that improve or save patients' lives is one of the many reasons you should work in medical sales.
If you want to make a difference, here are four tips that will help you become a successful medical sales rep:
Tips For Medical Sales Rep Success
Focus on relationship building
Building better relationships is the key to a successful medical sales representative career, important both with new and existing clients.
In the early stages of a relationship, clients will be hyperaware of whether you deliver on your promises, show them respect, and make them feel valued.
The Harvard Business Review found positive relationships to be one of the key elements needed to build trust, the others being consistency and good judgment.
Consistency means being reliable and continuing to nurture the partnership with existing clients.
Keep the lines of communication strong, be dependable, and reply to your client immediately, even if you don't have an answer at the time.
Be an expert on your client's product
Simply having the sales skills and the ability to form strong relationships won't cut it in the medical sales industry.
Knowing the product at the same level as your client is what will give you an edge.
Products are designed to treat specific medical conditions and can therefore be complex.
So you need to know the advantages and disadvantages and be ready to answer any medical questions that professionals may fire at you.
You also need to be well-versed in reimbursement, and disease states and remain aware of the key trends in the medical sales industry.
Welcome feedback
The 2020 Performance Management Benchmark Report shows that in the last two years, the number of employees seeking performance feedback has increased by 89%.
Why?
Because no matter whether it's positive or negative, feedback is essential for growth.
Positive client feedback gives you an indicator of what the client values.
If they encouragingly remark that they can rely on your efficient response rate and ability to get to the root of the problem, they've revealed one of your top strengths.
If like most other medical sales reps, you're goal-oriented, you'll relish receiving constructive feedback.
This will give you something to work on and improve.
Create a data-driven approach
Technology is transforming the sales process in more ways than one. In fact, it's reshaping the world around us.
The Economist wrote an interesting article titled, "The world's most valuable resource is no longer oil, but data". So how can data make you a more successful medical sales rep?
Start by thinking about any data that you can collect and how you can gain insight from it.
This could mean counting how many customers you interact with each month, your rate of success when you pursue a new lead compared to a referral, or the length of time you spend on the phone with a customer.
Combine your data to create a bigger picture of your sales process so you can see where you're going right and what might need tweaking.
Bring your medical sales rep career to IQVIA
Everything that we do at IQVIA is centred around improving patient outcomes, and being a global organisation means that working with us is an opportunity to influence key healthcare professionals.
Our medical sales reps work alongside our clients to ensure that the right products are prescribed for suitable patients.
Browse our medical sales representative jobs and join us in moving healthcare forward.
Related Articles
Frequently Asked Questions
How can I be a good pharmaceutical sales rep?
To excel as a pharmaceutical sales rep, focus on developing product knowledge, honing communication skills, staying updated on industry trends, building strong relationships, being organised and self-motivated, and continuously improving selling techniques.
Is medical sales a stressful job?
Medical sales can be demanding and stressful due to factors like sales targets, tight schedules, competition, and industry changes.
However, with effective time management, communication skills, and a positive mindset, individuals can succeed in this field.
What kind of medical sales reps make the most money?
Medical sales reps who sell high-value products or work in specialised areas like medical devices or pharmaceuticals tend to have higher earning potential.
Consistently achieving sales targets, building relationships, and possessing excellent negotiation skills also contribute to higher compensation.
What are the qualities of a medical sales representative?
Successful medical sales reps possess strong communication skills, confidence, resilience, empathy, listening skills, product knowledge, time management abilities, adaptability, a continuous learning mindset, and ethical conduct.
Developing these qualities contributes to success in the role.
List #1
IQVIA Related insights


How to adopt medical device sales ethics
Summary
In an industry where cutting-edge innovations and life-changing treatments are introduced every day, the role of ethics in medical device sales is critical.  Bridging the gap between groundbreaking m
Read more

How to get into clinical research jobs
Summary
Clinical research is a dynamic and rewarding field that transcends borders, offering professionals around the world the chance to contribute to medical advancements and improve patient outcomes.
Read more





How to break into the medical sales field
Summary
Are you an experienced medical professional looking for a new challenge, a career changer seeking a rewarding path in the healthcare industry, or newly graduated? The field of medical sales could
Read more




List #1
Recently viewed jobs