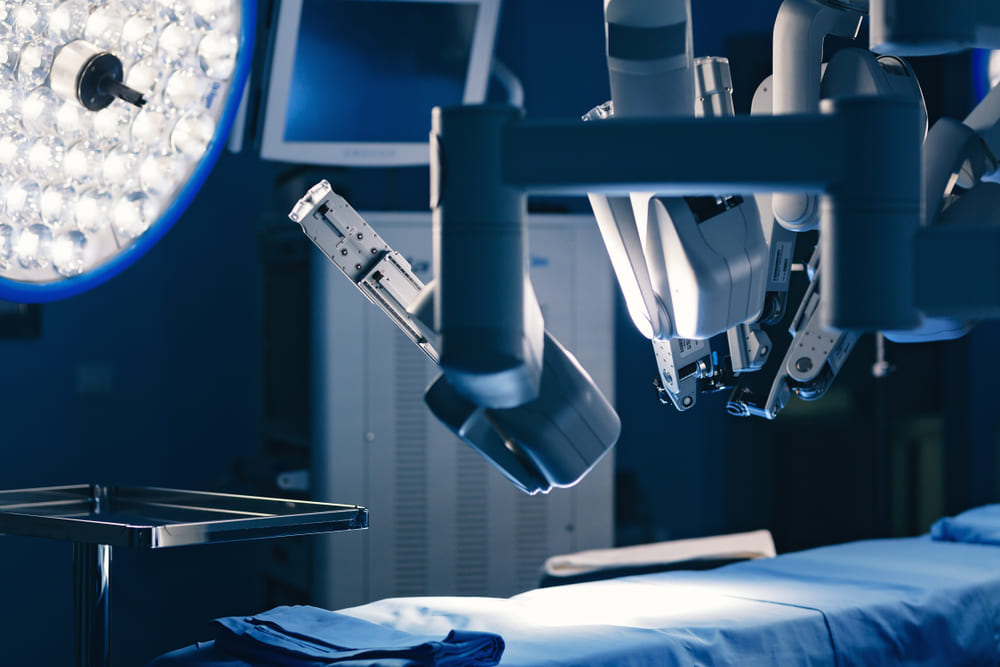 Medical Robots: Their Impact on Modern Healthcare
As a leading provider of advanced analytics, technology solutions, and clinical research services to the life sciences industry at IQVIA, we've always got our finger on the pulse.
We're always looking for smarter ways to move our customers forward. One exciting development at the forefront of the technology revolution is medical robots.
Nuffield Trust reports approximately 23% of deaths in the UK were considered avoidable (deaths that were either preventable or treatable) in 2020. Of these, 69% were preventable. The British Medical Journal (BMJ) reports over 237 million medication errors are made annually in England, avoidable consequences which cost the NHS more than £98 million and 1700+ lives every year.
Medical robots can improve the quality and efficiency of healthcare delivery and enhance patient outcomes by reducing the risk of complications and improving the precision of medical procedures. No longer the stuff of science fiction, robotics are transforming healthcare. Their potential benefits to the financial and human impact on the NHS in England are immeasurable.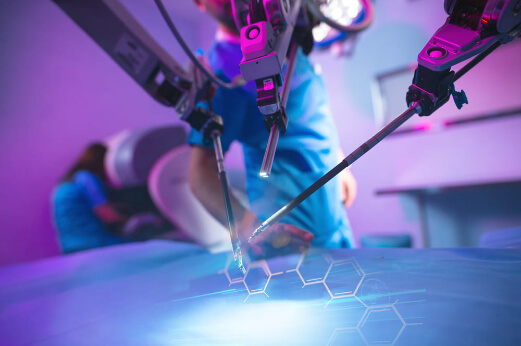 But what are medical robots?
Robots in medicine are specialised devices designed to assist in diagnosing, treating, and managing medical conditions. These robots are often used in surgical procedures, patient monitoring, and rehabilitation. They can be autonomous or controlled by a human operator and have various degrees of complexity and functionality.
With such potential, adopting robotics into healthcare units seems the obvious path to better patient care. And there's positive progress in the UK from Cambridge Medical Robotics (CMR Surgical), who built Versius, the first UK-built surgical robot used in the NHS and hospitals worldwide.
Versius is typically used to perform abdominal, urological, and gynaecological procedures, allowing a surgeon to sit in front of its 3D screen and operate the robot by manipulating two joysticks. First introduced in 2019, Versius has since been used to perform over 10,000 surgical procedures globally.
How are robots used in the medical field?
Medical robots are used to perform a range of tasks. From surgical procedures to patient care and medical research, there are various types of robotic devices used in medicine to perform a range of tasks.
Common examples used in the medical field include surgical robots used to perform minimally invasive surgical procedures with greater precision and control, like the da Vinci Surgical System and the ROSA robotic system.
Other medical robots include rehabilitation robots, which assist patients with physical therapy and recovery, such as exoskeletons and robotic arm devices. And then, there are telepresence robots, which allow healthcare providers to interact with patients and remotely perform assessments from a distance.
The impact of robots in medicine and medical sales
There are many benefits of robotics in healthcare, including better surgical outcomes, alleviating workload, allowing caregivers to provide higher-quality patient care, and safer working environments supported by cleaning and disinfection robots, which help to limit pathogen exposure.
Robotic devices have the potential to revolutionise healthcare by providing more accurate, precise, and efficient care to patients. News like this means a lot to our customers, who work hard to push the boundaries of human health.
For example, staying current with healthcare tech is vital for career success if you work in life sciences or medical sales. Knowledge will help you effectively communicate the value of your products and services to healthcare providers. Industry blogs, newsletters on medical robots, and news on what the future holds for your field are great tools to help you identify opportunities and market trends and stay competitive.
Future-proof your career
In today's healthcare environment, having access to data, information, and technology is one thing, but what you do with it can make a difference.
Whether you're a clinical research assistant, looking for medical sales rep jobs, or looking at medical device careers, if you're driven by passion and an intrinsic need to innovate, collaborate and grow, then why not explore our many opportunities at IQVIA? And if you can't find the role that you're looking for, you can sign up for job alerts, and you'll be the first to hear about our latest roles.
List #1
IQVIA Related insights


How to adopt medical device sales ethics
Summary
In an industry where cutting-edge innovations and life-changing treatments are introduced every day, the role of ethics in medical device sales is critical.  Bridging the gap between groundbreaking m
Read more

How to get into clinical research jobs
Summary
Clinical research is a dynamic and rewarding field that transcends borders, offering professionals around the world the chance to contribute to medical advancements and improve patient outcomes.
Read more





How to break into the medical sales field
Summary
Are you an experienced medical professional looking for a new challenge, a career changer seeking a rewarding path in the healthcare industry, or newly graduated? The field of medical sales could
Read more




List #1
Recently viewed jobs