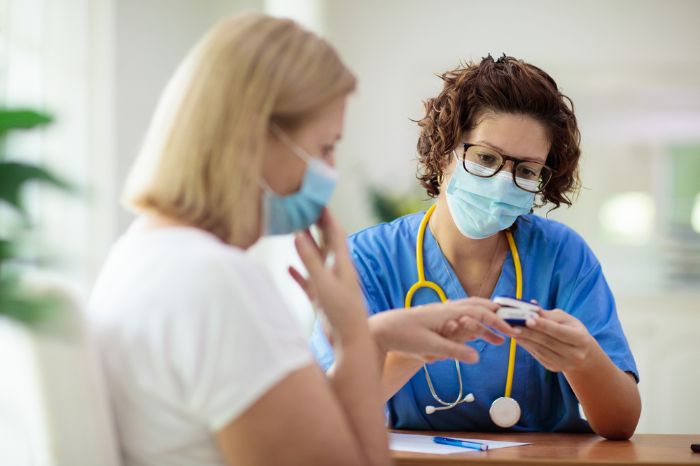 What is the role of a clinical nursing advisor?
Clinical nursing advisors mediate patient care by advising non-clinical staff on medical issues. It's a very important role in medical affairs and without this type of intervention, there'd be a huge discrepancy between health services and the medical care that patients deserve.
From a hiring perspective, qualified participants in this field have a few options to choose from in terms of how and where they apply their skills. Specialist nursing advisors may work in hospitals, nursing homes, pharmaceutical companies, or general healthcare facilities.
The increasing demand for suitable health care services and preventative care means a need for more nursing advisors. So, if you plan on pursuing or advancing in a career in this field, you have opportunities on your side! The question is, do you fit the role?
What does a clinical nursing advisor do?
There are essentially two facets to this job. One is to provide information and the other is to give support. Both information and support are given at patient level and industry level. On the patient level, the focus is to improve patient care, seeking the best outcomes for every individual. On the industry level, clinical nursing advisors are required to help healthcare practitioners administer the best ethical clinical practices.
Clinical nursing job responsibilities can include:
• Supporting patients and caregivers with therapy practices
• Applying clinical procedures such as venepuncture, phlebotomy, and cannulation
• Conducting research and sharing information on medication and therapies
• Reviewing and reporting on patient management
• Guiding health practitioners to coordinate correct patient management
• Clinical auditing (a valuable tool to improve quality of care)
• Liaising with medical sales reps to find the best patient care solutions
Having experience in these areas will help you to utilise many of the nursing specialist opportunities available. However, most companies do provide training and, at first, a nursing qualification may be all that's needed to get your foot in the door.

What skills do you need to succeed in clinical nurse advisor specialist jobs?
You will need to be registered as a nurse to qualify for this type of healthcare role. However, there are other skills that are needed to ensure that you are well-suited to this job.
Like the traits of a medical sales manager, you need to be able to thrive autonomously and have a firm hand in time management. The latter skill is essential since many of the job descriptions require flexibility to accommodate the schedules of HCPs and patients. Speaking of patients, this role is suited to people who have excellent communication skills and are generally empathetic in their approach. Similarly, working closely with health professionals requires a person who is confident and inclined to build healthy relationships that last.
What challenges do specialist nursing advisors face?
Every career path has its challenges. In the nurse advisor field, these challenges often lean towards conflict of interest between healthcare practitioners and their professional advice and patients who have diverse requests. It's up to nursing advisors to resolve these conflicts whilst pursuing the best outcomes for the patient.
Other challenges that nurse advisors face are the continuously evolving technological advancements in the medical field. These advancements require that candidates not only have good people skills but that they can also understand new innovations and then apply them in the best ways.
Let IQVIA help you with your nursing advisor career
At IQVIA, we supply the medical industry with new opportunities and solutions. We're a diverse community of individuals from around the world and we are well-versed in the challenges many healthcare professionals face, including nursing clinical advisors. That's why we have dedicated ourselves to connecting our candidates to the best nurse advisor specialist vacancies available – helping you to find a position where you can thrive!
Browse our medical sales jobs today and keep reading our blog for more interesting news and advice.
Clinical Trial Assistant - Meldola
Location:
Meldola, Ravenna, Forlì-Cesena, Bologna
Location
United States of America
Forlì-Cesena
Bologna
Description
Are you looking for an opportunity to work with an industry-leading company? IQVIA is currently recruiting for a Clinical Trial Assistant to support a site in Meldola.This part-time role is for 24 hou

Apply
List #1
IQVIA Related insights


How to adopt medical device sales ethics
Summary
In an industry where cutting-edge innovations and life-changing treatments are introduced every day, the role of ethics in medical device sales is critical.  Bridging the gap between groundbreaking m
Read more

How to get into clinical research jobs
Summary
Clinical research is a dynamic and rewarding field that transcends borders, offering professionals around the world the chance to contribute to medical advancements and improve patient outcomes.
Read more





How to break into the medical sales field
Summary
Are you an experienced medical professional looking for a new challenge, a career changer seeking a rewarding path in the healthcare industry, or newly graduated? The field of medical sales could
Read more




List #1
Recently viewed jobs