5 Key soft skills to succeed as a medical science liaison
In the dynamic and evolving field of healthcare, the role of a Medical Science Liaison (MSL) has become increasingly crucial.
But, what does a medical science liaison do? MSLs hold the power of information exchange. They play a pivotal role in facilitating the exchange of accurate medical and scientific knowledge, driving education, and spearheading research initiatives within the medical community.
Alongside technical knowledge, you'll need essential soft skills to succeed. It's important not to underestimate these. But worry not. At IQVIA, we're powered by the expertise and wisdom of 86,000 colleagues in over 100 countries. We're here to help you hone these skills, understand their benefits, and why they are vital for success in medical science liaison jobs and medical affairs jobs.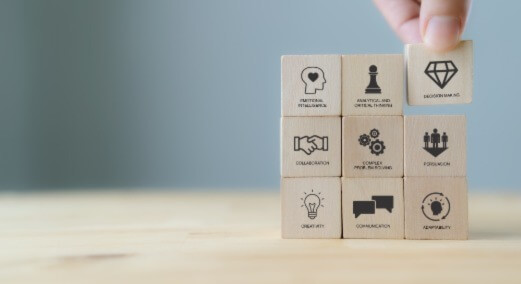 Master these soft skills to set yourself up for success as a medical science liaison:
Effective communication
Your ability to communicate complex scientific information to various stakeholders is paramount. Strong verbal, written, and presentation skills allow you to engage healthcare professionals, internal teams, and key opinion leaders effectively.
Clear and concise communication facilitates knowledge transfer, fosters collaborations, and enhances your credibility as a trusted scientific resource for clinical and technical education. By mastering this skill, you can articulate the value of medical products and develop lasting professional relationships. Why not take a look at some medical affairs job descriptions for a sense of how you could be applying soft skills?
Active listening
Active listening involves not only hearing but also understanding and empathising with the concerns and needs of healthcare professionals. By actively listening, you gain valuable insights into their challenges, allowing you to address them effectively. Active listening also helps build rapport, trust, and foster a positive working relationship, making you an indispensable partner for healthcare professionals in their patient care journey.
A study on the rewards of effective listening has shown that leaders who ranked in the bottom 10% as "least effective listeners", scored only in the 13th percentile for building relationships and the 14th percentile for generating trust. In stark contrast, the top 10% of leaders achieved an impressive 88th percentile in both areas. The key to this significant disparity? Effective listening skills. The ability to genuinely understand and connect with others has proven to be a transformative factor in fostering robust relationships and earning unwavering trust.
Adaptability and flexibility
There are many aspects you can expect and prepare for in MSL jobs. But with healthcare being an ever-changing landscape, adaptability and flexibility will serve you well as critical traits. Being adaptable will help you navigate through diverse healthcare environments, staying abreast of scientific advancements, industry regulations, and market dynamics.
By embracing change, you can quickly adapt your strategies, communication styles, and approaches to effectively engage with different healthcare professionals and respond to evolving needs. This ability ensures that you remain a valuable and relevant resource for your stakeholders.
Strong analytical and problem-solving skills
As an MSL, you will encounter complex scientific challenges and questions from healthcare professionals. Developing strong analytical and problem-solving skills will enable you to critically evaluate scientific data, identify knowledge gaps, and provide evidence-based solutions. By leveraging these skills, you can effectively communicate scientific information, address concerns, and offer valuable insights that contribute to improved patient outcomes.
Emotional intelligence
Emotional intelligence plays a crucial role in building successful relationships with healthcare professionals. It involves self-awareness, empathy, and the ability to manage emotions effectively. By understanding your own emotions and those of others, you can navigate challenging situations with professionalism and empathy. This skill enables you to adapt your communication style, tailor your interactions, and establish trust and rapport with healthcare professionals.
Are you ready to power healthcare with connected intelligence?
Working as a medical science liaison at IQVIA, you'll get to join a growing network of colleagues with unmatched capabilities, technology solutions, and contract research services in the life sciences industry.
Does the opportunity to progress your career, travel locally and internationally, work with world-class medical and scientific experts, and help make a difference in improving patient care sound exciting to you? If you're nodding along, make sure to explore and apply for our latest medical liaison jobs.
Medical Science Liaison Germany Austria Switzerland – Immuno-oncology
Location:
Mannheim, Frankfurt/Oder, Berlin, München-Sauerlach, Munchen
Location
Mannheim
München-Sauerlach
Frankfurt/Oder
Berlin
Munchen
Description
Medical Science Liaison – New Team Build – Oncology Immunotherapy (Solid Tumor) Germany, Austria, SwitzerlandIQVIA's international medical affairs team is looking for 10 experienced MSLs (Medical Scie

Apply
Medical Science Liaison Manager m/w/d Hematology Nephrology
Location:
Berlin, Stuttgart
Description
IQVIA ist ein führender, globaler Anbieter von zukunftsweisender Analytik, Technologielösungen und klinischer Auftragsforschung. Bei IQVIA Contract Sales & Medical Solutions unterstützen Sie unsere Ku

Apply
Medical Science Liaison West 2906686
Location:
Los Angeles, Denver, Dallas, Chicago, Las Vegas
Location
Los Angeles
Dallas
Chicago
Denver
Las Vegas
Description
Medical Science Liaison The Medical Science Liaison (MSL) will deliver scientific training to HCPs and Media regarding current and future adjunctive therapies and skincare solutions. The MSL will supp

Apply
Medical Science Liaison - Oncology - Denmark
Location:
Copenhagen Ø, Funen
Description
Medical Science Liaison – Team Expansion – Oncology Immunotherapy As part of a European team expansion – including Key Account Managers and Sales Representatives in multiple countries – IQVIA's intern

Apply
Medical Science Liaison - Oncology - Portugal
Location:
Oeiras, Coimbra
Description
Medical Science Liaison – Team Expansion – Oncology Immunotherapy As part of a European team expansion – including Key Account Managers and Sales Representatives in multiple countries – IQVIA's intern

Apply
Medical Science Liaison - Oncology - Sweden
Location:
Solna, Helsingborg
Description
Medical Science Liaison – Team Expansion – Oncology Immunotherapy As part of a European team expansion – including Key Account Managers and Sales Representatives in multiple countries – IQVIA's intern

Apply
Medical Science Liaison - Oncology - Austria
Description
Medical Science Liaison – Team Expansion – Oncology Immunotherapy As part of a European team expansion – including Key Account Managers and Sales Representatives in multiple countries – IQVIA's intern

Apply
Medical Science Liaison - Oncology - Belgium
Location:
Zaventem, Charleroi, Brugge, Antwerpen Zuid, Antwerp
Location
Zaventem
Charleroi
Brugge
Antwerpen Zuid
Antwerp
Description
Medical Science Liaison – Team Expansion – Oncology Immunotherapy As part of a European team expansion – including Key Account Managers and Sales Representatives in multiple countries – IQVIA's intern

Apply
Market Access Specialist
Description
Every 30 minutes a stroke patient who could have been saved, dies or is permanently disabled, because they were treated in the wrong hospital.Our mission is simple. To increase the number of patients

Apply
List #1
IQVIA Related insights




How to break into the medical sales field
Summary
Are you an experienced medical professional looking for a new challenge, a career changer seeking a rewarding path in the healthcare industry, or newly graduated? The field of medical sales could
Read more








List #1
Recently viewed jobs